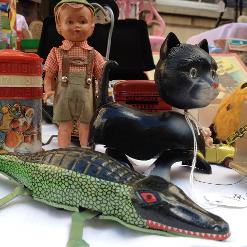 NEXT BRISTOL FLEA MARKET :
St Nicks Market
Saturday November 21st 2015
Catch us on Hannover Quay for a special Harbour Festival vintage fair on the 18th & 19th July 2015
About us
The Bristol Flea Market is Now in its 4th year of operating. We have two bases in Bristol once a month at the Ashton Gate stadium and also now on Corn street working in conjunction with the famous St Nicholas Market.
We operate at both sites on a monthly basis and you may also see us at some other events such as the Bristol harbour festival amongst others
If your looking for quality antiques, vintage, retro, industrial look, furnishings, furniture or pretty much anything second hand and unique make sure you pay us a visit.
Since the beginning we've strived to have a great group of traders who love what there doing and bring weird, wacky and amazing goods. We believe we have some of the best traders in the region. We don't have any stuffy traders our traders are just as unique as some of the items they bring! So please feel free to come have a browse and have a chat.
Next Flea Market @ Frys Pavillion
10th January 2016
Further dates:
13th March 2016
8th May 2016
10th July 2016
11th September 2016
13th November 2016
Location
Frys Club (somerdale Pavillion),
Cross Street, Keynsham
Bristol, BS31 2FW
Opening times & Admission
Public Entry 10am until 4.00pm
FREE ENTRY
About
Next Flea Market @ St Nicks Market
24th October 2015
Held Every Saturday on Corn street & Small Street
Location
St Nicholas Market,
Corn Street,
Bristol, BS11UQ


Opening times & Admission
Public Entry 10am until 4.30pm
FREE ENTRY
About